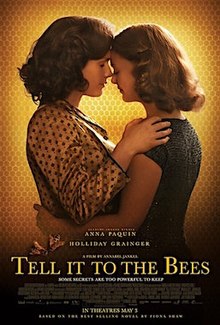 This week's Queer as Fiction episode talks about the 2019 film and 2009 novel Tell It To The Bees. Tune in for discussions of lesbian romance in post-World War II Scotland, bee-wrangling and the realism of attack bees, and unreliable narrators. 
If you've enjoyed this episode, please follow us on Tumblr, Twitter and Facebook as Queer as Fact, and if you'd like to support us financially you can do so via our Redbubble store or our Patreon.
Note: There is a bit more background noise than normal in this episode, for which we apologise.