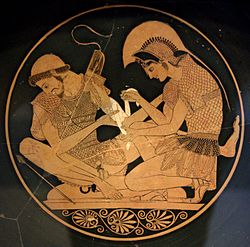 Today's episode deals with the Ancient Greek mythological figures Achilles and Patroclus.
Join us as we unravel two and a half thousand years of scholarship, compare the Trojan War with the Vietnam War and discuss whether one word can change the whole meaning of a text. 
Check out our new website, where you can find out everything there is to know about Queer as Fact, including source posts for each episode of our current season.
If you enjoy this episode, consider supporting us on Patreon, checking out our merch, and following us on Twitter, Tumblr and Facebook.